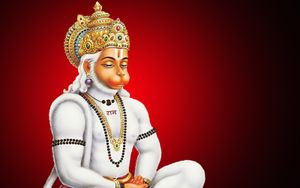 We're just two monkeys in love with Ram
Aspiring to be like Hanuman, the beloved monkey deity, our greatest wish is simply to be of service. For us, our offerings are kirtan, music, and yoga.
Our lives are devoted to singing kirtan, teaching Bhakti Yoga, and hosting spiritual retreats...all in the name of Sita and Ram. 
Jai Sita Ram!
THE ROB AND MELISSA STORY
When we met, which was before we discovered kirtan, we mutually agreed to place devotion at the forefront of our relationship. It was so important to us, we even created our first mantra (little did we know) to support it, "Be Nice and Have Fun!" As the seeds of devotion grew, we naturally gravitated toward the beautiful, heart-opening practices of Bhakti Yoga and kirtan.
Soon, our devotion to Rob and Melissa: the couple, evolved into devotion to kirtan; to singing the divine names, mostly the name Ram. While simultaneously falling in love with kirtan, Neem Karoli Baba, and especially Hanuman, we began to contemplate a band name for our kirtan music. 
"Is Rob and Melissa a good name," we thought? Or should we have a more descriptive or spiritual name? Our desire has always been to keep kirtan accessible, so "Rob and Melissa" the band, seemed to work – especially for people new to kirtan. Simple, sweet, and accessible. Yet, is it too simple, we wondered?
One day, while making our second CD, Tejase, we were playing around with logo ideas and wrote: 
Rob 
And 
Melissa 
When we looked down the line and saw R-A-M, both of us nearly burst into tears! It had been there the entire time and we hadn't noticed it before! On the outside, Rob and Melissa isn't an elegant Sanskrit name professing the spiritual nature of our music, but hidden within is the jewel, the name of God: RAM.
Not to mention that Hanuman loves RAM more than anything in the whole world. Well, that pretty much sealed it for us and we've joyfully been Rob and Melissa ever since.
Thanks for reading. Hope to sing with you soon!
With love,
Rob and Melissa
Find us: events
Some of the places you may have seen us in the past (and may again in the future): 
Bhakti Fest, Shakti Fest, Pranafest, Samsarafest, Northwest Yoga Feast, 8 Limbs Yoga Centers, Eastlake Yoga, Akhanda Yoga, or singing with Govind Das and Radha, Kia Miller, Janet Stone, and Saul David Raye. 
For full bios: press kit
"

Ram naam karne se sab pura ho jata hai. "
— "By repeating the name of Ram, all is possible, everything is accomplished." - Neem Karoli Baba
WHAT PEOPLE ARE SAYING ABOUT ROB AND MELISSA
"Rob and Melissa light up the room! Together they capture the audience with their joy-filled performances and their sweet glances at each other. If kirtan is indeed a path to the Divine, then Rob and Melissa will pave the way."  
-Jeni Martinez, Owner of Three Trees Yoga, Federal Way, WA 
"Rob and Melissa are a sweet bhakti duo with gorgeous voices and open hearts. They bring the beauty and bhav…heavenly heart-opening bliss." 
-Daniel Stewart, Kirtan Wallah and Co-Owner of Rising Lotus Yoga, CA
"Kirtan with Rob and Melissa was a full-on revival! It was so joyful and free, such a delight to sing our hearts out! Rob and Melissa are truly gifted and a genuine presence of the Joy and Light of Being!"
-Kate Fontana, Yoga Instructor, Tacoma, WA
"Kirtan with Rob and Melissa is still flowing and vibrating in and around me! Call it Reiki, call it transmission, call it God, call it whatever-you-like. I have been Touched." 
-Christina Lovejoy, Owner of Morning Light Yoga, Coeur d'Alene, ID 
" ….beautiful, soothing and joyful medicine."
-Marian Wilson 
"...so much sincerity." 
-Janet Stone, Founder of Stone Yoga School, San Francisco, CA