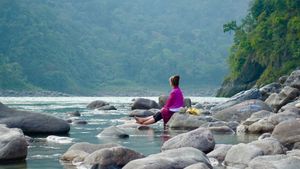 "

Rob and Melissa crafted an exquisite experience for our group....authentic, uplifting, loving and filled with laughter and creativity. It was magic."
— Jane Faulkner, Life & Leadership Coach, Los Angeles, CA
WHAT PEOPLE ARE SAYING ABOUT BEING ON RETREAT WITH ROB AND MELISSA
"Rob and Melissa create an atmosphere of joy, trust, and love that allows each of us to have the journey we need in the company of other loving travelers….an absolutely magical experience." 
 -Vicki Weeks, Founder of Global Weeks, Seattle, WA
"I've been on many yoga retreats (Mexico, India, U.S., etc) and this was far and away, the most inspirational, well-thought-out, delicious, and joyful. Rob and Melissa shared their gifts in a way that shone a light, opened a door, and struck a harmonious note within." 
-Nicole Aloni, Money Coach, Seattle, WA